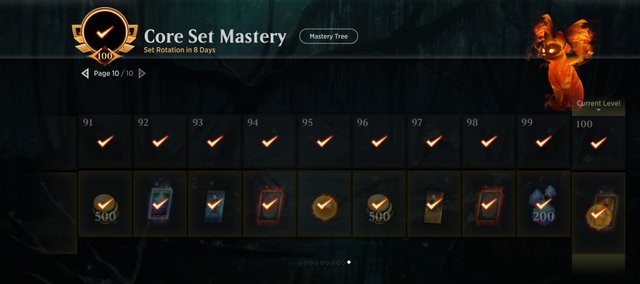 Hello friends yesterday I finally made it and reached Lvl 100 in the Mastery Tree. I owe it to the Standard 2020 Event on Magic Arena. It was fun to play the event ?
Yes and No, it just started to be fun with the change they patched into the event yesterday! Finally you got something for 1 victory and you weren't out after a defeat and had to start all over again!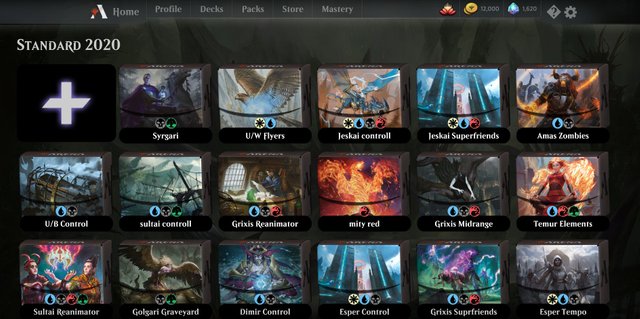 As you can see i made a lot of Decks for this Event ,but not all of them were fun to play.The Most Sucess i had with : U/B Control(but only at Day 1), Sultai Controll ,Mity Red, U/W Flyers,Temur Elements and Esper Tempo.
These were however not necessarily the decks which made me the most fun. The most fun to play were the following decks:
U/B Control(also only at Day 1), Sultai Controll ,Temur Elements and Syrgari (which was a varient of Golgari Graveyard).
Syr Konrad was not the only Card Eldraine Card i tested . Of the 6 cards you could play, I tested 5. Only the Boros Knight Lord was not tested. Let's talk a little about my experience with the cards.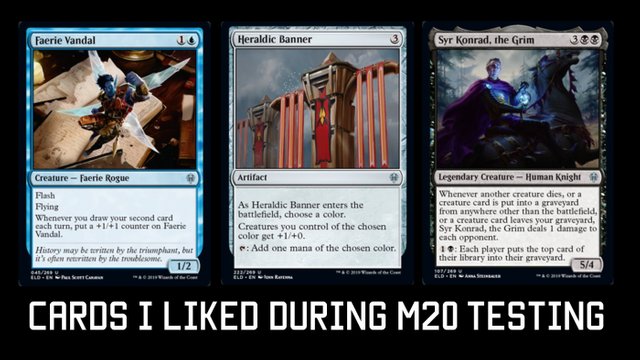 I played the Faerie Vandal in U/W Flyers and was a great asset to the deck. My Version of the Deck played 20 Cards that allowed me to Draw 1 or more Cards , so this little Friend was big fast ! Also i liked my 2 Dungeon Geists alot in the Deck :)
The Banner i tested also in U/W Flyers and in Amas Zombies . The Card was ok in U/W Flyers and felt great in amas zombies:)
Syr Konrad was the Card that made the most Fun to play with . He is a bit expensive but has killed the opponent one or the other time in Syrgari by his Triggerd ability :) At the end I will show you my Syrgari decklist :)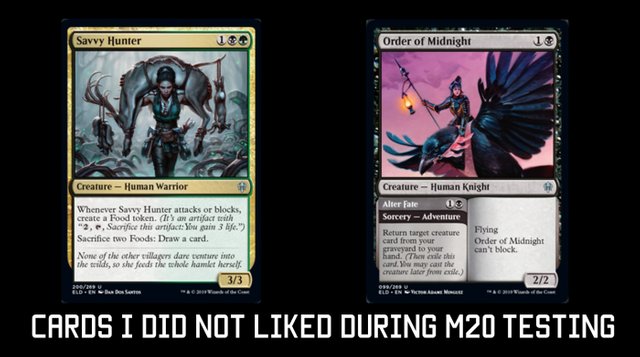 I tested the Savy Hunter in a Abazn Lifegain deck and in Golgari Graveyard and most of the Time i could played Savy Hunter i played another Card. She is 3/3 for only 3 Mana and still felt very clumsy.
Maybe it's because I never got to make any food tokens with her when I played her :(
Order of Midnight I played mainly for the Adventure Spell in Syrgari and Golgari Graveyard , and swapped it for 2 copies of Find/Finality a Plaguecrafter and 1 Copy of Villis, Breaker of Blood.
I wish we could have tested more than 6 cards in standard 2020 format and event, so unfortunately you didn't see many cards from Eldraine in the games :(
Finally the promised deck list, try the deck out and it's really fun to play! Bond of Revival i only added because i only have 3 Blood for Bones and I didn't want to craft another copy :D

Suprise a Bonus Decklist :D . If you did not reach Lvl 100 yet ,maybee my 2 List can help and Remember to have FUN !